Cuisinart 4 In 1 Cordless Wine Opener
NEXT WORKING DAY DELIVERY AVAILABLE*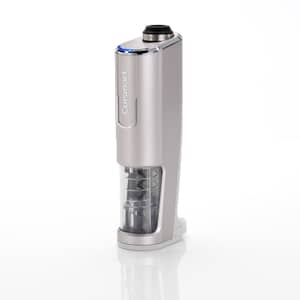 In Stock -

Yes
In Stock:
Yes (More than 20 available)
Delivery:
Next Working Day
* Order by Midday Monday-Friday and this item will be despatched on a Next Working day service to arrive the following working day. Available to Mainland UK locations only excluding remote locations. Additional items ordered not on the faster shipping service will delay the despatch of the order.
FREE DELIVERY AVAILABLE ON THIS ITEM!
Features
Part of our Cordless Collection, this stylish automatic wine opener will open your favourite bottles with ease. It senses, removes and ejects the cork in a single action and comes with all the accessories you need for opening, pouring and storing your wine.


Product Specification
Dimensions
5 x 7.5 x 22cm
Warranty
2 Year - click here for more details
Construction Materials
Full stainless steel interior
Capacity
1 Bottle
Features
Automatically opens natural and synthetic corks
Cordless for total flexibility
Compact, lightweight size
2.5 hour full charge opens up to 50 bottles
Lithium–ion battery for consistent, high power performance
Battery indicator lights show charge level
Includes USB lead and adaptor for optimum charging
Includes foil cutter, neatly stored in the base
Includes aerator to oxidise wines as your pour
Includes vacuum sealer with date marker to retain freshness of unfinished wines
0% Interest Free Credit
If you spend at least £399 online why not take advantage of our 'Interest Free Finance' offer?

Instead of paying for your order in one lump sum why not split the payment into 6 easy monthly payments. All you repay is the cost of the goods with no interest to pay! All we require is an initial 10% deposit minimum.

The application can be completed online in less than 5 minutes from our Desktop Website
Technical
Brand: Cuisinart
Name: Cuisinart 4 In 1 Cordless Wine Opener
Description:
Code: RWO100U
UPC: 3030058041004
Our Price (£): 80
Condition: New
Availability: In Stock